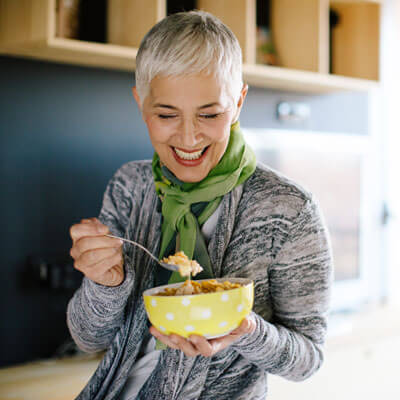 At our practice, we believe in taking a well-rounded approach to your wellness so that you can live your happiest, healthiest life possible.
Sometimes, that means going beyond chiropractic care and into other modalities—like nutrition. Eating a healthy, well-balanced diet is key to ensuring your body prospers just as it was designed to.
Some general rules of thumb to try and incorporate into your daily life include:
Avoiding added sugar
Choosing whole foods over highly processed or packaged foods
Steering clear of trans fats and complex carbohydrates
Saying yes to healthy fats like avocados, nuts and seeds, and olive oil
Choosing healthy proteins from free-range animals (give your local farmers market a try!)
When you visit us for your next appointment, ask us for more healthy eating tips—we're happy to help you on your quest to whole-body health.
Give This Healthy Summer Recipe a Try
Cooking and eating healthy doesn't have to be hard—check out this easy and delicious recipe for chicken, broccoli and sweet potato—all baked in one easy to clean-up pan.
Ingredients
20 oz sweet potatoes peeled and diced into 3/4-inch cubes (2 medium, about 3 cups)
4 Tbsp olive oil, divided
1 1/2 lbs boneless skinless chicken breasts, diced into pieces (about 1 1/4-inches, keep them close to the same size so they all cook even)
4 cups small broccoli florets
1/2 of a medium red onion, diced into chunks
3 cloves garlic, minced
3/4 tsp of each dried thyme, sage, parsley and rosemary
1/8 tsp nutmeg
Salt and freshly ground black pepper
1/2 cup pecans, whole or roughly chopped
1/3 cup dried cranberries
Instructions
Preheat oven to 400 degrees. Place sweet potatoes in a mound on a rimmed 18 by 13-inch baking sheet, pour 1 Tbsp over top and toss to evenly coat.
Spread into an even layer and roast in preheated oven for 15 minutes (meanwhile chop and prep remaining ingredients).
Remove sweet potatoes from oven, add chicken pieces, broccoli florets, and red onion around sweet potatoes (just placing everything randomly).
Sprinkle with garlic and drizzle everything with remaining 3 Tbsp olive oil (focusing mostly on the broccoli so it doesn't dry) and toss with a spatula to evenly coat.
Sprinkle evenly with thyme, sage, parsley, rosemary and nutmeg and about 1 tsp salt and 1/2 tsp pepper. Toss again to evenly coat with seasonings and spread out evenly (try not to overlap chicken pieces).
Return to oven and roast about 16 – 20 minutes longer, tossing once halfway through, until chicken registers 165 degrees in center.
Toss in pecans and cranberries. Serve immediately.